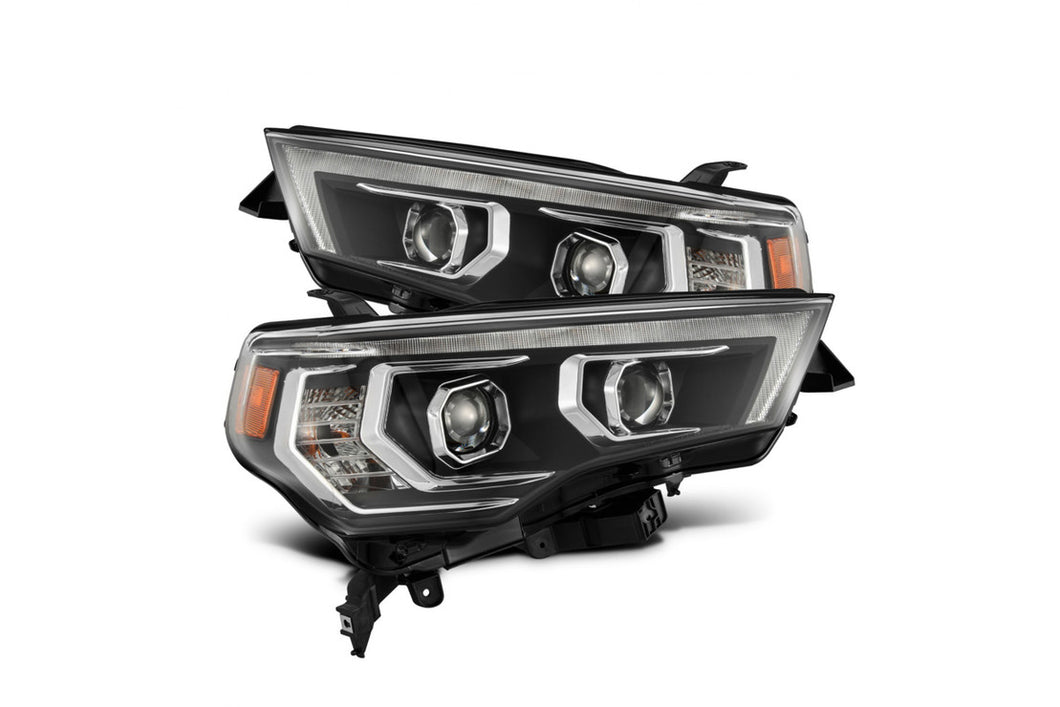 2014-2020 Toyota 4Runner ALPHAREX PRO G2 Headlights Colormatched
Regular price $1,155.00 Sale
They are professionally painted!
Please put your color code in the notes section when you order, if you do not we will reach out to you for that information once your order is placed. 
These are non returnable and non refundable it will be a custom built item. This does come with a 1 year warranty customer is responsible for shipping.  
ETA's are on the top banner of the website 
PRODUCT DETAILS
TYRANT KING: AlphaRex is out to climb the food chain quickly with its innovative and aggressively styled lighting options. The Pro Series featured here is their gateway into the AlphaRex family. It features a combination of Halogen and LED lighting inside their custom housings.
ALPHAREX DESIGN: These headlights are tailored to enhance the lighting and the personality of the 14-20 Toyota 4Runner. They feature an LED Light Tube that acts as the DRL. Note the uniform lighting of the tube and it becomes clear that AlphaRex hasn't skimped on build quality. The Projectors installed are precisely built for a sharp LHD cutoff line and the halogen bulbs inside can be replaced with even brighter versions for an added punch into the night.
STYLE: The Alpharex Pro-series projector headlights come with a DRL light tube.
HOUSING: These Pro Series lights from AlphaRex are available in Black, Chrome, or Jet Black. Don't settle for mismatched styling and surfaces. Get the lighting that looks best for your rig.
LENSES: Lenses often go overlooked by other companies but AlphaRex isn't one of those. For these headlights, they've included an anti-fogging agent inside the lens and UV resistant coating on both the outer surface and the inner surface to ensure a longer life without yellowing or dimming due to UV damage. That's attention to detail that we appreciate.
INSTALLATION: While we encourage the use of the installation manual, these things are about as easy as lights come. Truly 100% plug and play with your factory wiring, we're convinced that many of you could complete this lighting upgrade with your eyes blindfolded. Even the DRL module is a simple addition to the regular lighting kit.
SAE/DOT COMPLIANCE: Pro-series projector headlights are compliant with SAE and DOT FMVSS108 regulations. Certified to ISO-9000, ISO-9001, and ISO-9002.
TRUSTED: For more than a decade, we've worked hard to earn our killer reputation. Car guys world-wide know that The Retrofit Source carries the internet's best selection of high-performance HID and LED lighting upgrades for their car or truck at the best prices, and we've got the best, most knowledgeable team of real enthusiasts to help back it up. The Buyer's Guide on our homepage is the best way to see what we've got in store for your application! We also do wholesale, so if you're interested in opening up an account, contact TRS Today!
WHAT'S INCLUDED

HEADLIGHTS: 2x (One Pair) Pro-Series (14-20 Toyota 4Runner)

WIRING: Plug and Play Harness

WARRANTY:2 Years (Click for Details)
COMPATIBILITY

TOYOTA 4RUNNER: 2014-2020

880814: AlphaRex Pro-Series Halogen Heads: Toyota 4Runner (14-20) - Black (Set)

880815: AlphaRex Pro-Series Halogen Heads: Toyota 4Runner (14-20) - Chrome (Set)

880850: AlphaRex Pro-Series Halogen Heads: Toyota 4Runner (14-20) - Alpha-Black (Set)

NOTE: These housings have been designed for, and tested on, US-Spec vehicles. Other countries' compatibility may vary and is not guaranteed nor always known.
TECH SPECS

LENS MATERIAL: Polycarbonate (PC)

HOUSING MATERIAL: Polypropylene (PP)

HOUSING COLORS: Chrome, Matte black, Gloss Black

DRL: White (single intensity)

SIDE MARKER: Amber