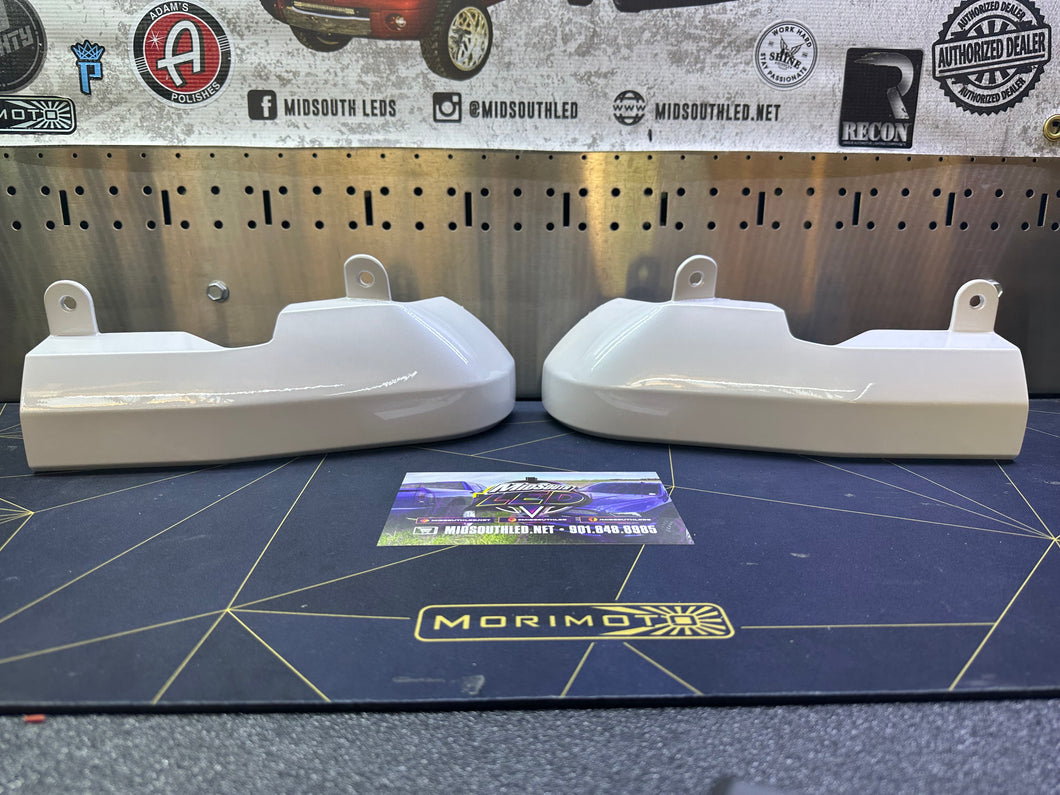 2020-2023 Chevy Silverado 2500/3500 HD Mud Flap Delete Kit - 2 Piece Front
Regular price $132.00 Sale
This is a 2020-2023 Chevy Silverado 2500/3500 HD Mud Flap Delete Kit - 2 Piece Front Only 
We highly suggest the colormatched option!
If you colormatch they will be sanded down, primed, and professionally painted in house.
Truck Hardware Finishing Caps allow you to replace the integrated OEM molded splash guards with a cap that maintains the OEM appearance. The Finishing Caps are also designed to support and enhance the installation of Truck Hardware Gatorback CR Series mudflaps.
With the release of the 2019 GMC Sierra 1500, Truck Hardware was presented with a new challenge. The OEM splash guards were designed around the OEM fender flares, which made it impossible to remove the OEM splash guards, without leaving the end of the flares open and unfinished. The OEM splash guards also prevented installing the Gatorback mudflaps properly. The Finishing Caps solve this problem. 
Fits the 2020-2023 Chevrolet Silverado 2500 HD and 3500 HD -

 

Will NOT fit 2024 models.

Fills gap left when the factory mud guards are removed
Matches factory flare molding perfectly
Custom fit, no drill install
Sold as a set of 4 (front and rear pairs)
Length: 8 inch - Width: 3 inch - Height: 3 inch
This part fits: 
2024 Chevrolet Silverado 2500 HD
2024 Chevrolet Silverado 3500 HD
2023 Chevrolet Silverado 2500 HD
2023 Chevrolet Silverado 3500 HD
2022 Chevrolet Silverado 2500 HD
2022 Chevrolet Silverado 3500 HD
2021 Chevrolet Silverado 2500 HD
2021 Chevrolet Silverado 3500 HD
2020 Chevrolet Silverado 2500 HD
2020 Chevrolet Silverado 3500 HD
If you choose the colormatched option, Please put your color code in the notes section when you order. if you do not we will reach out to you for that information once your order is placed. 

If there is anything else you would like done to them shoot us a text at 901-848-8985 
If you have a 3-stage paint there will be an additional cost for the paint. We will reach out to you once your order is placed. 
These are non returnable and non refundable it will be a custom built item. This does come with a 1 year warranty customer is responsible for shipping.  
ETA's are on the top banner of the website